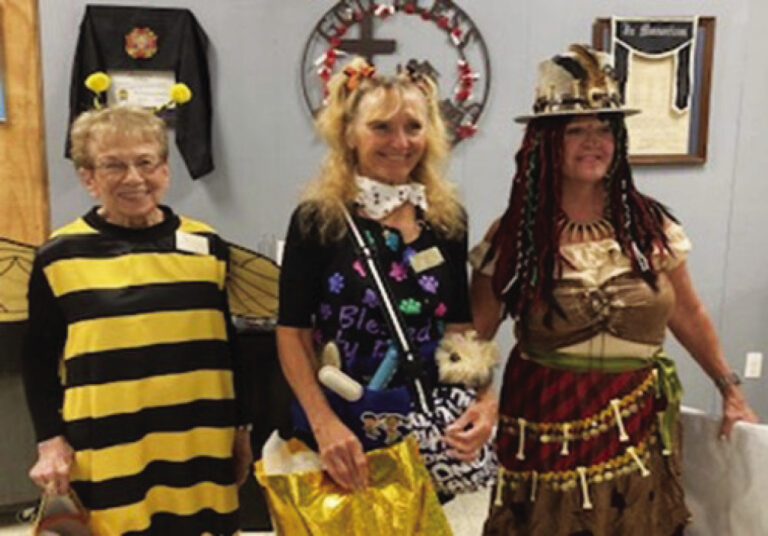 October FLEAS News
Last month's meeting of Friendly Lake Eufaula Area Supporters (FLEAS) was held Tuesday, Oct. 24, at the VFW.
The hostesses were Iris Harp, Kay Owens, Sharon Joplin, Gloria Stubbs and their theme was "Halloween Celebration."
After the business meeting and lunch there was a costume contest.
Winners were: – First place, President Kay Rogers dressed as the Zombie Queen.
– Second place, Brenda Barr as a dog groomer.
– Third place, Beverly Holly as a bumble bee.
The VFW Auxiliary prepared a delicious lunch of chili, brown beans and a variety of sides, apple crumble with ice cream for dessert.
There was one guest present.
Dorothy Kasiner was appointed Treasurer, to replace long-time member Sharon Joplin who had to take a leave of absence due to secondary job obligations. Nominations for 2024 officers are open and will be voted for at the November meeting.
If you are interested in a position, please contact one of the nominating committee members: Joy Hamilton, Margaret Kramer, Gloria Stubbs, Johnny Dedmon or Reba Thompson.
We participated at the Downtown Eufaula Trunk or Treat event and will also participate in the Angel Trees supported by L.A.K.e Country Diner as well as the Eufaula Backpack Buddies.
Sondra Coughlin will be hosting a craft making event at her daughter's home on Thursday, Nov. 2 at 9 a.m. If you are interested, please contact her. Space is limited.
SAVE the DATE: Dec. 19 FLEAS Christmas Party. Watch for further details.
Friendly reminder, 2024 dues ($25) are due before Jan. 1.
The next meeting will be held on Tuesday, Nov. 17.
FLEAS would like to invite the ladies in our community that are new to the area or those who are looking for something fun to do while meeting your neighbors, to join us.
Contact Kay Rogers at 405-202-9874 for further information.