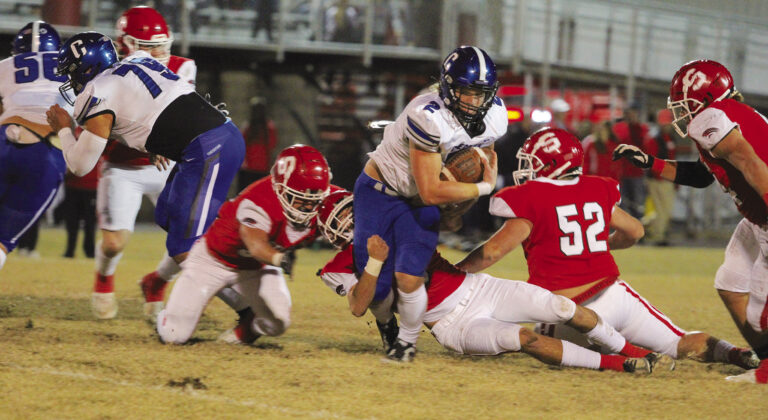 Wildcats claw past Stigler 28-13
The Checotah Wildcats (73, 4-2 Class 3A-3) solidified their spot in the playoffs with an impressive 28-13-road win over the Stigler Panthers Friday night. The Wildcats put a stop to Stigler's three-game win streak in the series. It was a game of big plays with Elijah Thomas flying down the field for a long touchdown or Kanden Mitchell breaking it loose for a long run down the sideline of Jaxton Jones blocking a punt. The Wildcats were firing on all cylinders on both sides of the football.
"I am extremely proud of all of our kids. The way they handled themselves and the focus they had through all the ups and downs in the game. We are looking forward to the challenge of going to Holland Hall and doing what it takes to continue this season. Great group of young men, all of us coaches have been blessed to coach these kids and looking forward to what comes," Checotah head coach Zac Ross said.
Checotah's offense had 332 yards of total offense with 127 yards rushing and 206 yards passing. The offensive line did a great job of blocking and giving quarterback Jacob Jones time to make reads and pass the football and opened up huge running lanes for Mitchell.
Mitchell had 12 carries for 127 yards including a 73-yard run that set up a Thomas touchdown. Mitchell also had two receptions for ten yards with a touchdown.
Sooner commit Eli-jah Thomas had one of his best games on defense as the junior was extremely violent with bone-jarring tackles and hits. Thomas finished with eight tackles and multiple pass break-ups.
On offense Jacob Jones used his arm and his legs to make plays for the Wildcats. Jones was 10-of-13 for 205 yards with a pair of touchdowns. Thomas was on his game as he finished with five receptions for 152 yards with an 80-yard and 3-yard touchdowns, plus he threw a touchdown pass to Mitchell and he ran for a 2-yard touchdown.
Lane Elliott also had a couple of big plays on both sides of the football, including a long third down conversion that kept a touchdown drive alive.
The leading tackler for Checotah was Dylan Robinson with ten followed by Thomas, Dallas Carter, Roman Westbrook and Jaxon Frayne each had eight tackles.
Checotah will travel to Holland Hall in Tulsa Friday night to take on the Dutchmen in the first round of the playoffs.