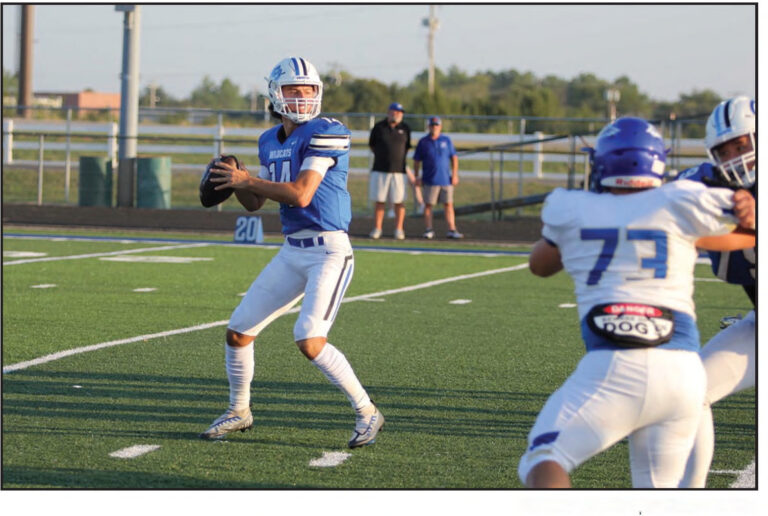 Dutchmen cages Wildcats
The Checotah Wildcats (7-4) saw their season come to an end Friday night in Tulsa as the Holland Hall Dutchmen (8-3) rolled to a 3813 victory. Turnovers doomed the Wildcats as they had four interceptions and a fumble loss against a good Holland Hall team.
Checotah quarterback Jacob Jones was 18-of-32 passing for 173 yards and four interceptions. Jones also ran the football for 73 yards on 13 carries with a touchdown.
Checotah racked up 341 yards but the turnovers were the difference in the ball game. Kaden Mitchell led the ground attack for Checotah with eight carries for 75 yards and Elijah Thomas had five carries for 20 yards and a touchdown.
Jones used multiple targets in the passing game as he threw to Lane Elliott for an 18yard reception, Brian Love had two receptions for 36 yards and Jayden Lake had four receptions for 26 yards. Elijah Thomas led Checotah with six receptions for 84 yards.
"You can't have five turnovers and expect to win the game. This was a tough one but I'm very proud of this team. All season they worked hard and with each week became closer as a unit. I'm proud of these seniors that they made it to the playoffs and ended their high school career playing in the playoffs. This team represented Checotah with dignity and I couldn't be happier for them. I appreciate all the time and the hard work my staff did throughout the summer and this fall," Checotah head coach Zac Ross said.
Preston Cannon was the leading tackler for Checotah with ten tackles.