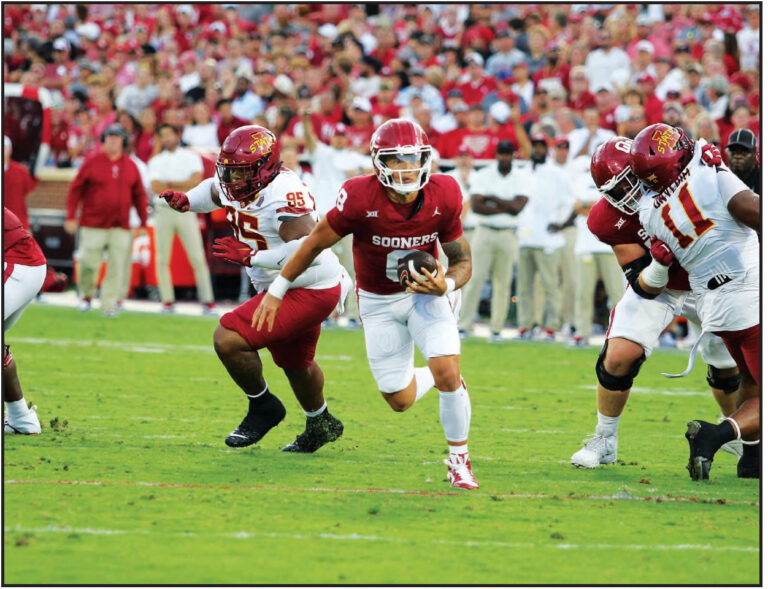 Oklahoma sends Mountaineers packing with 59-20 victory
The Oklahoma Sooners beat West Virginia 59-20 at Gaylord Family — Oklahoma Memorial Stadium to stay alive in the race to make the Big 12 Championship Game.
OU quarterback Dillon Gabriel joins NCAA career passing yards Top 10 as the Sooners toppled West Virginia. Gabriel passed for a season-high 423 yards and five touchdowns and ran for three more. It was the most touchdowns by an OU quarterback since 2000. Gabriel has thrown for 14,274 yards.
There was nothing conservative about Saturdays game plan, though, as the Sooners (8-2, 5-2 Big 12) pushed the ball downfield repeatedly. That included a pair of completions of 60 or more yards — a 63yard completion to Nic Anderson on the first play of the second quarter and a 63-yard touchdown to Drake Stoops early in the third quarter.
The Sooners' 59 points were its most in a Big 12 game since scoring 62 vs. Kansas in 2020. OU's 644 yards were a season high, besting the 642 they posted in the season opener vs. Arkansas State.
The Sooners' 221 rushing yards also set a season high.
Danny Stutsman finished with a team-high eight tackles, while Kip Lewis added seven.
If OU winds up a three-way tie with OSU and Kansas State and Texas wins out, the Sooners would make the title game by virtue of their win over Texas.
Even though the Cowboys have beaten both OU and Kansas State, the head-to-head matchups wouldn't be considered since the Sooners and Wildcats don't play this season.
Drake Stoops finished with 10 receptions, a career-high 164 receiving yards and three touchdowns, all of which were thrown by Gabriel. On the season, Stoops has 694 receiving yards and nine touchdowns, the most he's had in both categories during his six-year college career. Stoops has caught 149 passes for 1,606 yards and 16 touchdowns.