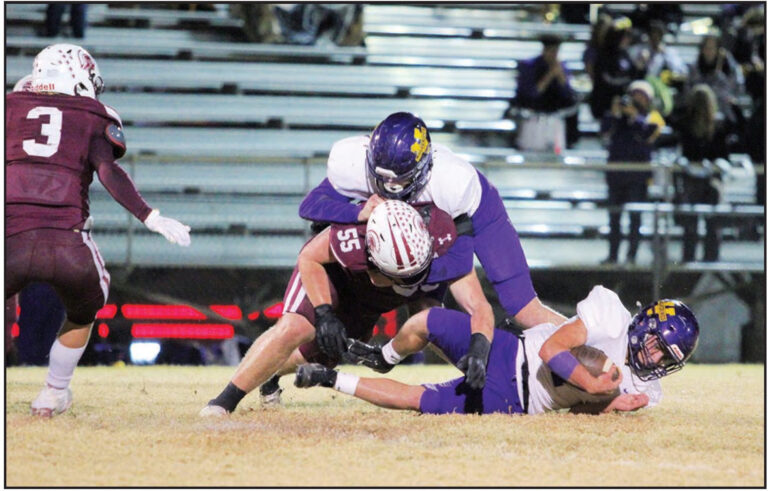 Vian tops Eufaula again
The Vian Wolverines (7-4) defeated the Eufaula Ironheads (7-4) for a second time this season with a 33-14 victory at Paul Bell Stadium in Eufaula Friday night. The Wolverines earned a 35-27 win against Eufaula in game one of the season.
The game started off just like game one did with Vian marching downfield on the opening possession to take a 7-0 lead, with Masyn Wright capping off the drive with a 2-yard touchdown. Eufaula would answer with a nineyard touchdown pass to Kaden Rice to tie the game 7-7. Vian's offensive line frustrated the Ironheads' defense as the game went on. Wolverine receiver Nathan Creasey got behind the Ironhead defense and caught a long ball and bolted in from 44 yards out to give Vian a 14-7 lead going into the halftime break.
Vian got the football first in the third quarter and made the most of it. The Wolverines marched downfield and capped a long drive with a 24-yard run by Draighton Fletcher.
Vian forced Eufaula to punt and scored again in the third quarter with a 33-yard touchdown pass to Nathan Creasey.
Eufaula would answer the call as Maddox Bridges gave the home crowd something to cheer for as he took a kickoff 75 yards to the house to make the score 27-14. The Wolverines would then drive down the field with a long methodical drive that was capped off with a Masyn Wright 17-yard touchdown run. The Wolvers ran the football for a total of 202 yards while the Vian defense held Eufaula to just 60 yards of rushing offense. Eufaula quarterback Ledger Folsom was 7-of-24 for 96 yards and a touchdown and interception. Folsom also had 12 carries and a rushing touchdown. Rice led Eufaula with two receptions for 75 yards and a touchdown.
Peter Lee finished with seven runs for 28 yards.
Wright led Vian with 148 yards rushing on 32 carries with a pair of touchdowns. Wright also was 3-of-7 passing for 91 yards and two touchdowns.
"We made some mistakes tonight but I thought we gave a lot of effort. I'm proud of what we accomplished this season. This is a young team with only four seniors and trust me, we're going to miss them next year. I'm confident that these underclassmen will step and accept the challenge. Vian is a great football team and I congratulate them and wish them the best going forward. I wish it was us, but the chips fell where they fell. I want to thank all my staff, the trainers, the players and the fans. Without fan support it would be a long season. But this team is proud to represent Eufaula and I'm proud of these guys for working so hard and believing in Ironhead football," Eufaula head coach Larry Newton said.