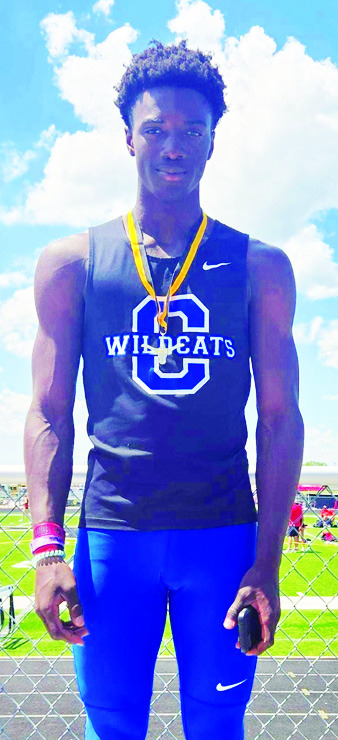 Checotah track team competes in Inola Meet
The Checotah Wildcats competed in the Inola Track Meet on Friday. Sophomore Elijah Thomas won the 100-meter dash and the long jump with a length of 22-03.50 while Katelynn West placed fourth in the 300-meter hurdles. Thomas finished the 100-meter dash with a time of 11.23 seconds. Westin Rinner of Catoosa placed second with a time of 11.73 and Brelynn Macomb of Fort Gibson placed third with 11.99. Keagan Prather placed 20th with 12.40 and Kreed Hall placed 26th with a time of 12.66.
Katelynn West placed fourth in the 300 meters with a time of 52.94. Windi Holmes of Stilwell placed first with a time of 48.52, Presley Inglett of Chouteau was second with 50.47 and Ali Schwerdtfeger was third with a time of 50.64.
Nyah Cloud placed 10th in the girls 100 meter dash and 15th in the 200-meter dash, Sage Jones 18th with 14.96 Ruthy Faulkner placed 15th. In the 1600 meter race Ruthy Faulkner placed 12th and JaiCee Lester was 13th. The Checotah girls 4×100 meter relay team placed 5th. Natalie Knight placed 11th in the long jump with 13-09.50. Tyler Orman placed 10th in the 400-meter dash 56.61. Izayah Tayde placed 7th in the 1600 meter run and 3200 meter run.