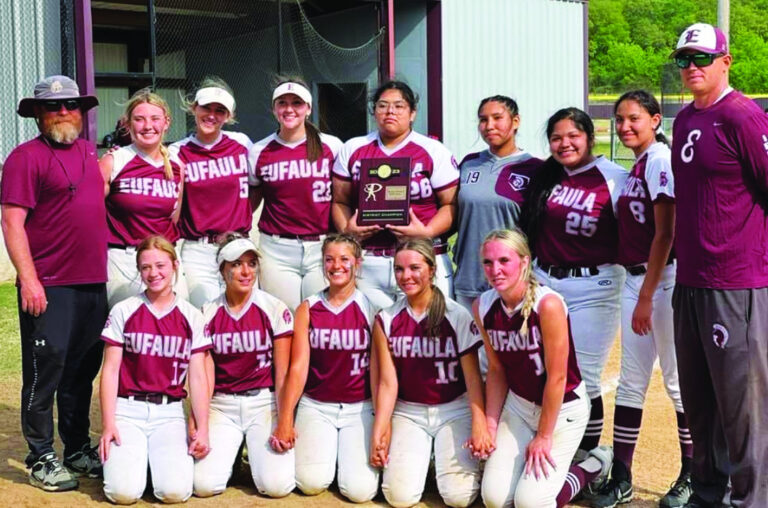 Eufaula Lady Ironheads win softball District Championship
The No. 15 Lady Ironheads (20-8) claimed the district title, going 2-1 on Wednesday as they defeated No. 18 Berryhill and split games with No. 12 Fort Gibson, both of whose seasons came to an end. Eufaula lost 5-1 to the Lady Tigers in game one as Shyanne Madewell went 2-for-3 for the Lady Ironheads. Maty Laney and Kiah Austin had two hits apiece for Fort Gibson who led 5-0 after three innings.
Eufaula followed up with a 9-2 win over Berryhill. Gabbi Noriega and Kambri Williams led with two hits. The Lady Ironheads avenged the loss to Fort Gibson with a 6-4 win over the Lady Tigers.
"We just play well. I struggled hitting in our first game but we came together as a team and managed to win the district title. I'm very happy for my teammates and coaches," Maddie Ballard of Eufaula said.
Gracie Williams had two hits for Fort Gibson (13-9) while Kate Pippenger had three hits going 3-for-3, Avery Williams went 3-for-4 with 2 RBIs and Katie Tidwell went 3-for-4 with 2 RBIs for the Lady Ironheads.
"The girls battled through some adversity on Wednesday, losing game one. We made some adjustments to our mentality and just loosened up a little and played. It was a really tough District and we gritted up and got it done. That was the third time we'd played Ft. Gibson and the girls deserve all the credit for getting it done when it mattered the most," Eufaula head coach Ryan Green said.