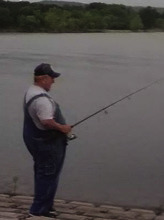 Obituaries
April 27, 2023
Valton Laroy Eugene Luce
April 12, 1942 – April 13, 2023
Valton Laroy Eugene Luce, 81, of Council Hill, passed away Thursday, April 13, 2023, in Muskogee. Valton was born on April 12, 1942, in Victoria, Texas, to Clarence Eugene and Lorene Elizabeth (Barrick) Luce. He graduated from Duncan High School in 1959. Valton enlisted in the United States Navy in 1959 and served until 1962.
On June 20, 1959, he married Joyce Marie Moses, in Vernon, Texas. The two were married for 53 years, until her passing in 2012.
Valton enjoyed fishing, hunting and camping.
Valton is survived by his sons, Jerry Luce and wife Renee of Checotah, and Sonny Ray Luce and wife Karen of Midland, Texas; eight grandchildren; 13 great-grandchildren; and two great- great-grandchildren. Also, sisters-in-law, Cynthia Luce of Checotah, Annie Luce of Checotah, and Debbie Trent of Seminole.
He is preceded in death by his wife, Joyce Marie Luce; and parents, Clarence and Lorene Luce; brothers, Jerry Wayne Luce, Ernie Lee Luce and Benny Trent; and sister, Faye Houston.
A graveside service was held at 2 p.m., Wednesday, April 19, 2023, at Bower Cemetery. Arrangements were made under the direction of Hunn, Black & Merritt Funeral Home & Crematory.
Online condolences may be made to the family at www.hbmfunerlahome. com.