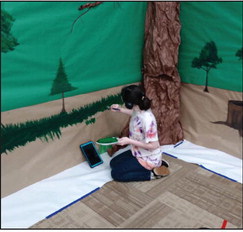 Jim Lucas Checotah Library ready for summer
The weather is starting to warm up, and your friends here at Jim Lucas Checotah Public Library are getting ready for summer.
The summer reading program kicked off on May 30, and the theme this year is All Together Now.
This summer the library will put on programs that focus on friendship, kindness, teamwork, and community service. During the month of June, they will have programs every weekday that the library is open. Come out and join them as they welcome storyteller Will Hill on June 8, Extreme Animals on June 12, Monty Hall for
an "All Together Now Sing Along" on June 20, and Science Museum OK on June 28. Come in and grab the full schedule of activities to know when everything is happening.
This June they will also begin tabletop role-playing groups. With the interest generated by shows like Stranger Things and Critical Role, tabletop role-playing is more popular than it has ever been. This exciting activity includes cooperative storytelling with problem solving and can be enjoyed by all ages. Every Friday in June, we will have four time slots for four different age groups. Ages 6-9 at 1 p.m. Ages 10-12 at 2 p.m.
Ages 13-17 at 3 p.m. Ages 18+ at 4 p.m. Get ready to scoot your boots, Checotah, because June will also bring line dancing classes to the library. Muddy Boots Line Dancing will be here on June 6 and June 20 at 5 p.m. All ages are welcome, so bring the family and cha cha real smooth.
June should also see the completion of Checotah's first pickleball court. Pickleball is America's fastest growing sport and combines elements of table tennis, badminton, and tennis. The court will be on the property at the library and equipment will be available that players can check out from the library. There will be a grand opening once the date for the completion of the court becomes available, so keep your eyes peeled.
For more information about these and other events and programs at Jim Lucas Checotah Public Library, please visit them at checotahpl@eols.org and follow them on Facebook and Instagram.
Kenny Matthews is the branch manager at Jim Lucas Checotah Public Library, a branch of the Eastern Oklahoma Library System.