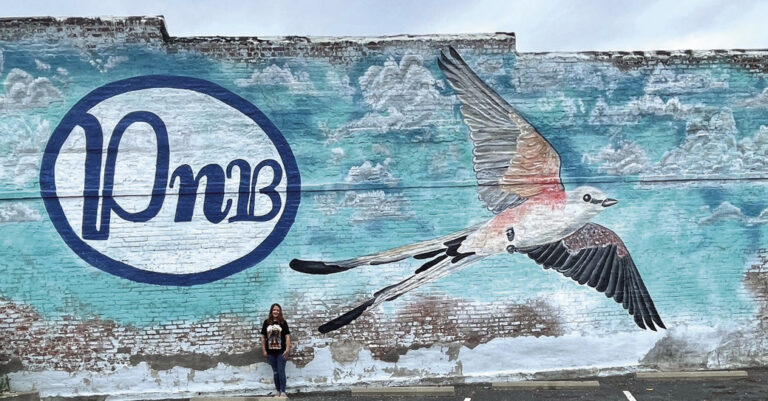 Local artist creates Kolorful Kreations for PNB
Whether it is windows, walls or anything in between, Kim Morris, can turn it into her next "Kolorful Kreation." Morris is a wide range artist who loves and lives to paint signs, selfie walls or even business names on any building or window. One of her newest works of art is the beautiful scissortail mural she did for Peoples National Bank in their parking lot o Gentry.
"It took me nine working days to complete the project," Morris said. "I have done a few smaller outside walls but this was by far the biggest one I have ever done. I have always loved doing art from a young age but was never confident enough to share my creations.
"However, about seven years ago at a meeting at my church, Warner First Assembly of God Church, our women's pastor, Pam Crosby, asked if I would write on a banner for her. I did and it just took o 2from there. When we built our new sanctuary, Pam told me she had the perfect idea that I could have a chalkboard in the foyer to do creative images and sayings on it. I thought it would be about 4_. x 6_. or so but instead when they nished it was 9_. x 16_. I never thought I could ever do something that big but God said, 'Let's do this!'
"Off and on I have had people ask me to do jobs here and there but I didn't always have the time. n about eight months ago, Hoss Durrett gave me an opportunity to do his logo on his building and I almost didn't do it because of my other job. t's when my husband told me, 'When are you going to see that this is where God has led you?' So I prayed about it and said, 'Ok Lord, I'm trusting You!' So I took a huge leap of faith and quit my job.
By the time I nished the logo for Hoss my whole November and December calendar was booked for window painting. I did quite a few in town including Peoples National Bank's during Christmas and several others.
Checotah has truly been a blessing to me!
"A mural had always been a dream of mine for quite some time but I never thought it would happen. However, God always had a plan. Now here I am with a beautiful mural under my belt. I'm so grateful for Robert Jennings and Peoples National Bank for trusting me to make their vision come to life.
"My husband Chad Morris and I have been married 15 years and we have three children together. My oldest even helped me the rst few days driving the lift under the mural. But I was very pleased how it turned out.
"I have painted tons of other little things like Easter buckets for people over the years. n I painted my rst little photo sele wall at the Tiki Cabana in Gore. t is what kind of got me out of my shell. I have painted windows and I have painted on corrugated metal. I've painted on textured walls and on non-textured walls, brick and hardy board. If it stands still long enough, I can paint it. I charge by the job because a lot of factors go in to each project and it depends on the complexity of each project. I have stayed busy ever since my rst big project and I'm thankful that God has blessed me with the ability to create these 'Kolorful Kreations.' I hope to keep painting the town of Checotah and the surrounding areas."
See more of Kimberly's Kolorful Kreations on Facebook.