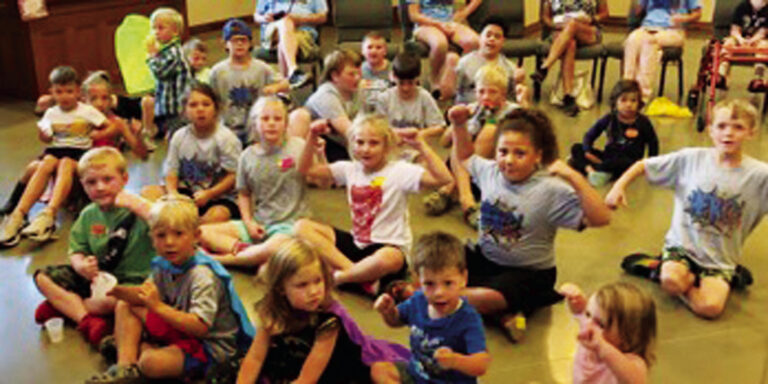 Local VBS kids raise money for missions
Another United Methodist Church Vacation Bible School (VBS) is in the books and it was a huge success stated United Methodist pastor Mark Watson.
"For the better part of my ministry, one of the things I have done is to challenge the VBS kids to raise money for a mission project," Watson said. "Some years, the mission has been within Oklahoma.
Sometimes it's been within the borders of the United States, but a couple of times we have reached beyond our borders and raised money for a worthwhile cause overseas.
"It is a great joy to watch these local kids get excited about our mission project each year. It is even better to hear the cheers as I announce that the monetary challenge has been met and even exceeded. I don't believe there has ever been a time, in over 20 years, when the goal has not been met.
"Of course, the kids love the fact that there is always a consequence for me if the suggested amount is raised. Over the years, I have kissed a pig, llama, camel, been pelted with balloons, taken a mud bath, a pie or two to the face and got dunked into a dunk tank, just to name a few. It's always fun and the kids get a huge kick out of it at my expense.
The theme this year was "Hero Hotline" with the theme verse being Romans 14:19 which states, "So let's strive together for the things that bring peace and the things that build each other up." The kids who participated in VBS were encouraged to answer the "call" to be more like Jesus in their everyday lives. So they were met with their mission challenge/ project which they gladly accepted.
The VBS Mission Project was created to provide funds to complete a daycare center at Manos Juntas (Hands Together) which is a denominational ministry in Rio Bravo, Mexico. Mano Juntas provides the city of Rio Bravo with health clinics, after school activities, a home for at-risk children, retreat space and the soon-to-be completed daycare center.
"The VBS attendees were challenged to raise $500 for the daycare center. We took up an offering each Sunday evening during VBS in July and the amount donated kept growing. As of last Sunday, the total donated was $337 but with the kids and adults joining together that amount became $940 by the end of the day and we are expecting it to grow to over $1,000 for the mission project. My deepest thanks to everyone who helped to make this possible!
"The last night of VBS I suffered the 'consequence' of the kids meeting their challenge. So, I sat over a dunk tank as each child was given the chance to hit the bullseye and send me into the water. Again, I am so proud of these kiddos! This kind of stuff just makes me believe, even more, that I have the best job on the planet and we have some great kids in Checotah, Oklahoma."