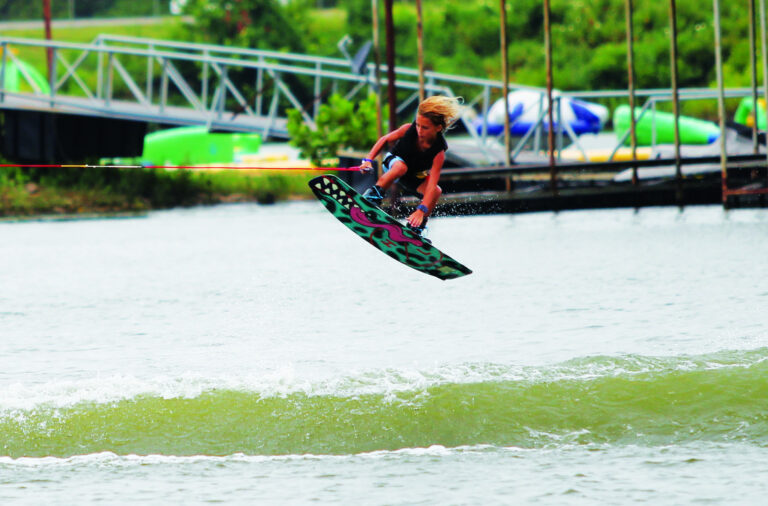 Southern Plains Festival Wakeboard event was a huge success
(Revised version of the article that ran August 10) The event was a huge success as boarders from across the nation participated in the event.
Southern Plains festival has been dedicated to help grow Wakeboard and Wake surf for the past two decades. Now SPF has seen the need to also develop the younger wakeboard athletes. SPF has committed with WWA to showcase the younger Jr. Men and Jr Women Pro's divisions. The mission is to highlight our younger athletes and give the Jr. Pro's an event that they can claim as their own. SPF was this last weekend, which sets between Nationals in Georgia and Worlds hosted in Portugal. This provides a great practice event between the two.
"We had 65 competitors from as far as California, and other states like Florida, Missouri, Louisiana, Texas, Mississippi, Arkansas, and Oklahoma. Friday Practice Pulls – Saturday Tournament – Sunday Funday with the Pro Riders. National riders came right from Callaway Gardens in Georgia to compete in our event including our local Jr Pro Riders Stella Tracy who placed 1st in Jr Pro Women and Women's Surf and Cameron Lewis placing 1st in Grom and 2nd in Grom Surf at SPF.
Nautique Pro Surf Rider Drew Drennan attended and gave lessons to up-and-coming riders as well as Kane Ward Jr Pro Rider. The competition was very close, and we are so proud of each and every rider. The future of wakeboarding is strong, these young athletes are very dedicated and committed to mastering their sport," April Roberts said.
Sammy's Surf Shop, Sammy & April Roberts coordinate the event along with support from a great team and many sponsors.
Results Wake Grom (13 & Under)
1st – Cameron Lewis Eufaula, Oklahoma 2nd – Sloan Smith Heath, Texas 3rd – Drake Sasser Durant, Oklahoma Novice
1st – Jack Sterk Frisco, Texas 2nd – Zach Sterk Frisco, Texas Intermediate
1st – Spencer Trice Edmond, Oklahoma 2nd – Chase Locke Scott, Arkansas 3rd – Gage Karner Shawnee, Oklahoma Women Wake
1st – Taylor Gise Norman, Oklahoma Expert
1st – Michael Freeman Cashion, Oklahoma
Open
1st – Dylan Sexton Shreveport, Louisiana
Jr. Pro Women
1st – Stella Tracy Eufaula, Oklahoma
Jr. Pro Men
1st – Max Saja Belle Island, Florida 2nd – Zach Miller Saltillo, Mississippi 3rd – Kane Ward Cullman, Alabama Grom Surf (13 & Under)
1st – Victoria Moroski Gravies Mills, Missouri 2nd – Cameron Lewis Eufaula, Oklahoma 3rd – Naomi Ramsey Guntown, Mississippi
Women's Surf
1st – Stella Tracy Eufaula, Oklahoma 2nd – Landry Hall Versailles, Missouri 3rd – Victoria Moroski Gravies Mills, Missouri Men's Surf
1st – Kobe Karner Shawnee, Oklahoma 2nd – Michael Freeman Cashion, Oklahoma 3rd – Chase Locke Scott, Arkansas