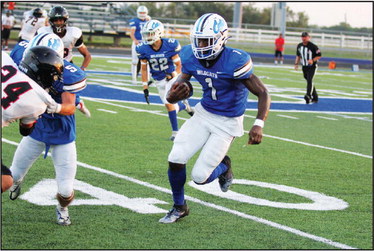 Wildcats pounce on East Central
The Checotah Wildcats (1-0) executed their game plan to a "T" as they defeated Tulsa East Central 4314. East Central paid the price with the opening kickoff as they kicked the football straight to Elijah Thomas, who took it to the house to give the Wildcats a 6-0 lead. Checotah's defensive front was exceptional as they blitzed and put pressure on the quarterback throughout the contest.
"I'm very happy with how we played tonight. I thought we protected our quarterback and gave our running backs wide lanes to run the ball. Overall I'm very pleased with our effort tonight," Checotah head coach Zac Ross said.
Kaden Mitchell scored the second touchdown from 12 yards out. Mitchell and Jaydon Casey ran the football with authority for the Wildcats.
East Central scored on their next possession on broken coverage by the defense but Checotah answered the call with a laser throw from Jacob Jones to Thomas to make the score 19-6 to end the first quarter.
Jones had a huge night, going 18 of 23 for 256 yards and four touchdowns. Kaden Mitchell had four carries for 50 yards and a pair of touchdowns.
Jones picked apart the East Central defense as Thomas finished with nine receptions for 135 yards and three touchdowns and Lane Elliott had four catches for 56 yards and a touchdown.
Thomas also had a 76yard kick return for a touchdown and an interception.
Kamden Miller, Reighn Westbrook, and Jonah Marshall led the defensive charge. Miller recorded his first solo quarterback sack in the first quarter.
Checotah will host Claremore Sequoyah Friday night at Ray Grandstaff Stadium at 7 p.m.