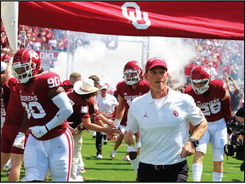 Sports
September 14, 2023
Sooners survive Ponies stampede
The No. 18 ranked Oklahoma Sooners (20) held off the SMU Mustangs 28-11 in a game at Gaylord Family — Oklahoma Memorial Stadium was 84,186, marking OU's 148th straight sellout of an originally scheduled home game, dating back to the start of the 1999 season. It is the nation's secondlongest current streak. Oklahoma surrendered just three points through the first seven quarters of the season. The last time OU did not give up a touchdown in its first seven quarters of a season was 1999 (beat Indiana State 49-0 and Baylor 41-10.
Dillon Gabriel completed 19 of 27 passes (71%) for 176 yards and four touchdowns, and rushed eight times for 20 yards. Receiver Andrel Anthony scored his first touchdown as a Sooner on a 29-yard reception on OU's second possession of the game. It was his fifth career TD reception (he had four at Michigan).
Jalil Faroog scored his first touchdown of the season and sixth of his career on a 21-yard reception in the fourth quarter.
SMU had more total yards than OU 367365. OU rushed for 189 yards but SMU out threw the football for 250, 26-45-1 compared to the Sooners 19-27 for 176 yards.