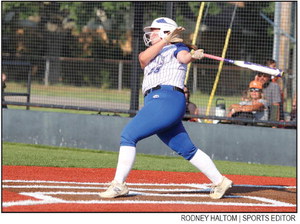 Sports
September 21, 2023
Checotah Lady Wildcats cruise to 14-1 victory over Central
The Checotah Lady Wildcats cruised to a 14-1 victory over Central to improve to 1013 overall. Checotah scored seven runs in the first inning after taking advantage of multiple errors by Central. Checotah added two more runs in the second as their highpowered offense was hitting on all cylinders. Hailey Prince connected on a double, sending Shaelynn Casey. Maci Britt knocked in Khyli Miller to take a 9-1 lead.
Kora Hall, and Layna Vandiver each hit a single to get on base in the bottom of the third inning. Aurora Madewell singled on a ground ball while Hall scored on the throw. Prince then singled, scoring Madewell and Casey, Miller and Anderson each scored in the third to end the game 14-1.
Stigler Panthers top Checotah 13-4
The Stigler Lady Panthers took an early 5-1 lead to start the third inning. Checotah tried to rally in the third, scoring three runs as Maci Britt scored on an error and Katharine Anderson was walked.
The Panthers exploded in the fourth inning scoring seven runs to seal the victory.
Hailey Prince took the loss for Checotah. She went four innings, allowing 13 runs on nine hits and striking out one. Layna Vandiver went 2-for-3 with a run scored. Prince was l-for-2, and Katharine Anderson was 1-for-l with an RBI and double.