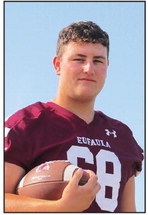 Sports
September 21, 2023
Eufaula Giant Draven Gragg receives multiple offers
Eufaula senior football standout Draven Gragg has a big decision to make. The 6'4", 270-pound giant has been outstanding at the linebacker and the lineman positions. Gragg has received offers from University of Central Arkansas, East Central University, Northeastern State University, Southwestern State University, University of Central Oklahoma, Pittsburg State, Southeastern Oklahoma State University and Southern Nazarene University has extended an official visit to Gragg.
Gragg has been a fouryear starter for the Ironheads and has contributed a lot in those years with Eufaula going 10-3 in 2022, 12-2 in 2021 and 10-2 in 2020. He has great speed for his size and is unbelievably tough and powerful as he has great technique in putting bone-jarring hits and devastating tackles on opponents. In addition to playing on the gridiron, Gragg has impressive leadership skills.
"He is a team player and helps me get to my assignments if I don't know what I need to do. He's my right hand man when we block together. We grew up together so he is family to me," Eufaula junior lineman Carson Luna said.
Gragg is the son of the Ironheads defensive coordinator Jeremy Gragg.
"Well, getting to coach Draven has been one of the greatest joys of my life. Getting to watch him grow from a young boy into a young man is a true blessing not many dads get. Being able to coach my son his whole football career has been fun. He has grown into a great player, but I'm more proud of him being a good young man. That's always been his mom and my goal to raise a godly young man and kind person. He has turned into the guy a lot of younger players look up to and his teammates are equally stepping into those leadership roles. I have always coached him hard and wanted that toughness to carry over in life because life is tough, and that will help him when he is grown," Jeremy Gragg said.
"Draven has always been that athlete that is willing to play whatever position we need him to play and he has the skill set to do so. He's played a vital role on defense for the last three years and I am sure he will be successful at the next level. Ironhead Nation wishes him the best in his endeavors after school," Eufaula head coach Larry Newton said.