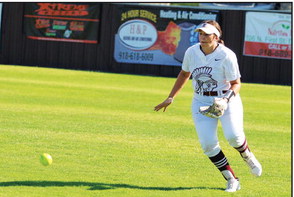 Sports
September 21, 2023
Lady Knights edge out Eufaula 7-5
The Henryetta Lady Knights edged out Eufaula on Thursday with a 7-5 victory.
It was a pitching battle throughout the game. Eufaula scored first in the second inning when Jadence Efurd hit a fielder's choice that scored a run. Eufaula then scored again in the third inning when Kate Pippenger connected on a pitch for a single extending the lead 2-0.
But Henryetta answered the call with three runs scored in the bottom of the third inning after Shelby Kilhoffer
Kadie Jo Tidwell has been rock solid for Eufaula as seen here where she stops the ball and throws out the runner at first base.
slammed a pitch for a homerun to take a 3-2 lead. Neither team scored in the fourth inning, as it was a defensive battle with great infield play.
The Lady Ironheads then rolled three runs in the top of the fifth inning as Maddie Ballard and Gabrielle Noriega each hit a double to take a 5-3 lead. The Knights would score a run in the bottom of the fifth inning to trail 5-4 with a solo homerun.
Henryetta held Eufaula scoreless for the remainder of the game while scoring winning runs in the bottom of the extra inning.
Avery Williams took the loss for Eufaula. She went eight innings, surrendering seven runs (four earned) on nine hits, striking out two and walking one.
Serenity Rex was the winning pitcher. She struck out six and walked three. Maddie Ballard went 1-for-5 with an RBI and a double, Gabby Noriega was 2-for-3 with an RBI, Avery Williams 2-for-3 and Kate Pippneger was 1-for-4 with an RBI.
On Tuesday Eufaula lost to Oktaha 7-3 Eufaula led 2-1 after the first inning but struggled at the plate in the latter innings. The Lady Tigers roared in the fourth, fifth and sixth innings scoring two runs in each inning to take a 7-2 lead. Eufaula managed another run in the seventh as Maddie Ballard whacked a pitch for a solo homerun.
Avery Williams took the loss from the pitcher's circle as she went seven innings, surrendering seven runs on 11 hits, striking out two with zero walks.
"We have to start finishing these games. We have more potential than what we saw today. Oktaha is a great team and well coached. You only get better by playing quality teams like we did today. We're going to put this one behind us and learn from it. We have regionals coming up and we have to play better as a team if we want to achieve our goals. I'm proud of this team and I know we will bounce back from today," Eufaula head coach Ryan Green said.