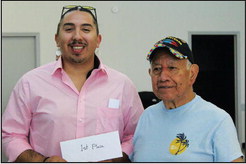 Mvskoke spelling bee important for cultural survival
The Eighth Annual Mvskoke Spelling Bee competition held Saturday at the Eufaula Community Center is more than a test of tribal members' ability to spell a word in the Muscogee (Creek) Language – it"s part of an effort to keep the language alive.
"There are only between 500 and 1,000 left who are fluent," said Rebecca Barnett, a teacher with the tribe's Mvskoke Language Program. "We lost an awful lot to COVID."
For some tribes, their languages border on extinction.
The Osage Nation has only a handful of native speakers. The Chickasaw Nation has only 50 to 75.
Most tribes have programs designed to save their languages.
Most of the words on Saturday's spelling list were taken from the Green Dictionary published by Jack B. Martin and Margaret McKane Mauldin.
The winners were Jay Fife, first place who received $300; Melissa Webb, second place who received $200; and Jon Tiger, third place who received $100.
Barnett emphasized that the annual spelling bee is about much more than the prize money.
"If we don't have the language, we don't exist," said Barnett, who judged Friday's competition, which involved contestants hearing an English word spoken in Mvskoke and then spelling it in the Mvskoke language.
The English words weren't that difficult – words like police, cloud, November, children and ocean.
But they become harder to spell in Mvskoke.
Only three people entered Saturday's spelling bee. Last year there were eight.
Tiger, a Tribal Town leader, said many who would have participated, attended a major event in Macon, GA – the 31st annual Ocmulgee Indigenous Celebration on Sept. 16 and 17 at the Ocmulgee Mounds National Historical Park.
The Celebration was hosted by the Park and the Ocmulgee Mounds Association and is considered to be one of the largest celebrations of Southeastern Native American culture.
"A lot went on the trip, but that's OK," Tiger said.
Saturday's spelling bee was a partnership between the Mvskoke Language Preservation Program and the Eufaula- Canadian Tribal Town.
Barnett said the spelling bee was a chance for people to "hear the language and have some fun."