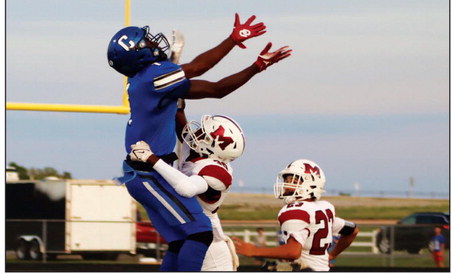 Sports
September 28, 2023
Checotah tops Mu Id row 7-6 in Homecoming game
It was a defensive battle all night as the Checotah Wildcats (4-1, 1-0 District 3A-3) survived to get a 7-6 win over the Muldrow Bulldogs. The team had a big week as they kicked off Homecoming with the parade on Thursday evening and fans rallied to cheer their team on.
Both offensive lines struggled throughout the game. Checotah running back Kaden Mitchell was the high light of the game. He ran for 68-yards on 14 carries and caught the only touchdown of the game.
"I was very happy with our defense. They made big plays when we had to have it. Credit to Muldrow as well and how hard they played," Checotah head coach Zac Ross said.
Reighn Westbrook led Checotah with nine tackles, Elijah Thomas had eight tackles and Jonah and Bryce Marshall each had five tackles each.
The Wildcats will travel to Seminole Friday with a 7:30 p.m. kickoff.
"Seminole is a good team. We will be looking forward to another challenge," Ross said.