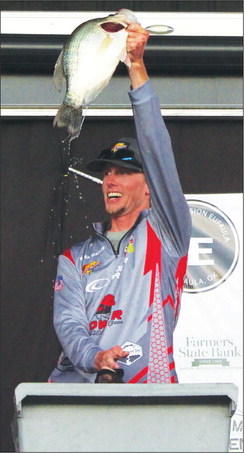 Crappie Championship attracts hundreds of anglers
A boon for the city
The weekend's first ever Crappie Masters National Championship on Lake Eufaula wasn't exactly smooth sailing.
"It has stormed and high winds almost everyday. Trying to figure out a 110,000 acre lake in three days with winds, storms and trees was the ultimate challenge," posted angled Ryan D Friday's competition got a late start because of a weather delay.
The tournament lasted three days, Sept. 21, 22 and 23 and attracted 101 teams of anglers.
Weather aside, Tournament Director Blake Jackson spoke highly of Eufaula and the tournament that attracted a couple of hundred anglers vying for a share of $125,000 in cash and prizes.
"This has been one of the best yet," Jackson spoke to fans from the stage of the Xtreme Amphitheater as he prepared for Saturday's final weigh-in that would determine the winners.
He praised Vision Eufaula, among others, for sponsoring the Championship.
"Without them, none of this would have been possible," Jackson said.
He marveled at the hospitality shown by Eufaula.
"You rolled out the red carpet," he said. "Lake Eufaula is going to become a staple (on the tour)."
Anglers will return to Lake Eufaula April 4-5, 2024 for another Crappie Masters event.
Eufaula City Manager Jeb Jones was happy that Jackson was happy. He would like to see more tournaments to boost the city's economy.
"We will not see the actual economic impact numbers for 60 days, but I hope to see a sales tax bump of $10,000 to $15,000 which translates to an increase in local sales of $300,000 to $500,000," Jones said.
He said, "Anglers and their families were very impressed with our city and the hospitality they experienced."
The big winners in the tournament were Dan and Hayden Jeffries, a father and son team from Mississippi who captured first place with 35.92 pounds of crappie taking home $30,000.
The team won backto- back championships, winning $30,000 at the Crappie Masters National Champion-ship held March 10-11 at Grenada Lake, Miss. During the course of their tournaments in the 2022 season, the father and son earned over $225,000.
In 2022, they won over $225,000 in tournaments.
In Second, with 35.19 pounds but winning the tiebreaker over third with a 2.78 big fish, the team of Lamar Bunting and Gene Neumeier won $12,000.
Taking home the third-place trophy and $6,200 with 35.19 pounds was the team of Kyler Beckman and Dillon Stocking.
Baxter Wallis of Dover, Ark., reeled in the largest fish, catching a crappie weighing 3.32 pounds.