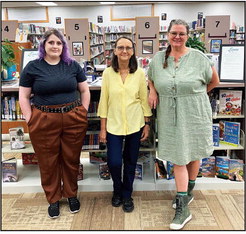 What's new at the Jim Lucas Library
After two weeks of being closed for repairs, the Jim Lucas Checotah Public Library is back in full swing for the fall season.
D uring the short closing city work crews replaced water-damaged walls and molded ceiling tiles. They also removed old wallpaper and painted the walls. Over the weekend, a new roof was put on as well. Mayor Daniel Tarkington stated an estimated $50,000 was well spent on needed repairs for one the town's greatest assets – a local library.
The Jim Lucas Checotah Library branch manager Kenny Matthews and his staff were excited with all the new changes.
"After a two week break for repairs, we are glad to be back, Matthews said. "There is a new roof, new walls, and some new staff. Mauve McMahon is our new library assistant, while Kathie Williams and Jenny Thompson are our new clerks. So if you haven't visited in a while, you should come by and check out everything that is offered at your local Checotah library."
Some programs the library offers are:
• Mondays at 6 p.m. enjoy Healthy Living Strategies –Patrons can learn about proper nutrition, exercise, weight management, positive thinking, and avoiding scams.
• Wednesdays through November 15 (excluding October 18 for Fall Break) learn guitar. Patrons can book a thirty minute lesson from four available times: 2p.m., 2:30 p.m., 3p.m., or 3:30 p.m. Lessons are individualized and tailored to each student and their ability. Call or come in to find out how to secure a spot.
• Mondays and Wednesdays at 8:30 a.m. – GED classes are available. Call for enrollment details.
• Mondays and Wednesdays at 1p.m. – S.A.I.L. classes are also available.
• Tuesdays – Storytime for toddlers at 11:30 a.m. and 1p.m. for big kids.
• Thursdays – Sept. 28 participate in Tai Chi at 11 a.m. or Diabetes classes at 3 p.m.
On Saturday, October 14, at 10 a.m. come create a make-and-take activity of the partial solar eclipse. Then grab some eclipse glasses and watch the partial solar eclipse.
The library also has two Adult Pinterest projects beginning at 5 p.m. on Oct. 10 and Oct. 24.
"I'd like the public to know that the city has done an amazing job keeping this building going so that the people here in Checotah and in McIntosh County can continue using the resources offered by the library. We count ourselves very lucky to have such strong support from the people of Checotah."