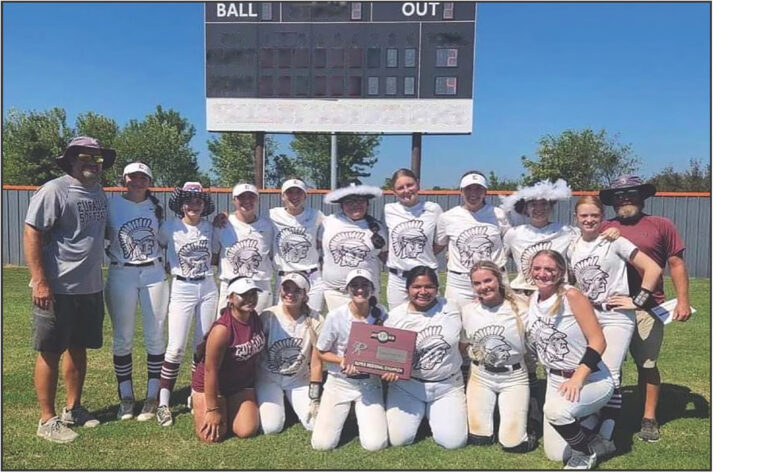 Lady Ironheads punch ticket to State
The Eufaula Lady Ironheads (23-11) made school history when they defeated Valliant 4-2 to win the Super Regional Championship. The victory sends Eufaula to the state tournament for the first time in school history. It was a total team win for Eufaula as senior Kambry Williams put Eufaula on the scoreboard first with a single in the third inning.
However, Valliant took a 2-1 lead after hitting a home run and stealing home plate. The Lady Ironheads sealed the victory when Avery Williams, Rayleigh Peterson and Kate Pippenger each singled home a run. The Eufaula seniors led by example as Allie Anderson, Avery Williams and Gabby Noriega each had two hits.
Avery Williams pitched the entire game allowing four hits and two runs over seven innings.
"It was kind of a whirlwind couple of days down in Valliant versus a really good team. We kinda got punched in the mouth game one and the girls responded with tons of grit and walked off game two in the bottom of the 7th inning. Game three was just a good ballgame with us coming out on top with four 2 out RBIs in the third and fourth innings."
"Then, pitching and defense held them scoreless the rest of the game. I cannot express how happy and proud I am for this group of girls who have risen to the occasion with games this week and last and willed our way to the State Tournament for the first time in school history. We're still hungry and have some ball left to play, and lots of fight left but I'm very proud of this team," Eufaula head coach Ryan Green said.
Valliant defeated Eufaula 9-0 in game one of the Super Regional on Thursday. Great pitching held Eufaula scoreless. The Lady Dawgs led 2-0 going into the fifth inning and sealed the win by scoring six runs in the fifth.
With their backs against the wall Eufaula came out with one purpose and that was to win game two knowing if they lose they go home. The Lady Ironheads played an excellent game and topped Valliant 2-1. The game was tied in the bottom of the seventh inning when Rayleigh Peterson smashed a pitch for a double, scoring the winning run.
Senior Avery Williams hit a double in the seventh to tie the game. She also earned the win from the pitcher's circle as she surrendered six hits and one run over seven innings, striking out one and walking one. Madison Ballard, Avery Williams and Rayleigh Peterson each collected two hits to lead Eufaula.