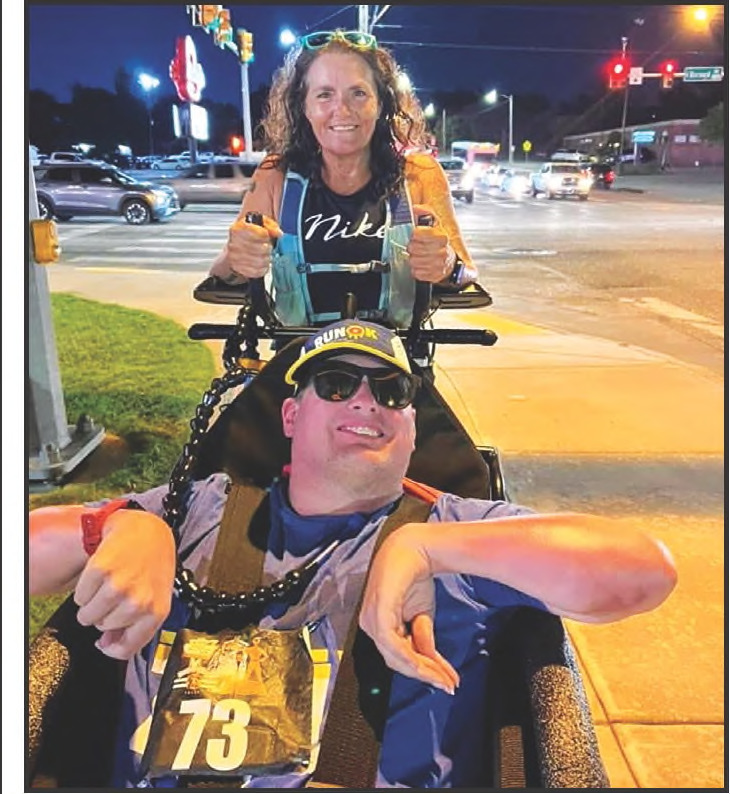 Sometimes it takes a village to finish this race
Tulsa Urban Adventurer 100-miler completed
Some goals can be accomplished alone but sometimes it takes a village. That's what it took to help Sean Lewis finish the Tulsa Urban Adventurer 100-miler over the weekend. Sean was born premature and diagnosed with cerebral palsy at eight months old. He has been in an electric wheelchair since he was six years old but at age 40 he doesn't let life's challenges hold him back. He finds another way to accomplish his goals with the help of a tribe of friends.
One such friend Kyle Miller took to social media after the big event of helping their wheelchair -bound friend Sean finish his goal.
"Big hugs and love to Kathy Bratton and Barbara Hamill Pinkerton welcoming Sean into the fun race tradition," Miller said. "Jack Hatzenbuehler, Margaret Casey and Mark Cole brought Sean in (across the finish line), official finish time at 21:21:18. Sean had Johnny Williams come in for the finish with him. When Johnny was unable to start the first loop with him Saturday morning like originally planned due to an injury, Sean decided he still needed to come across the finish with him. Johnny was a key part of the whole 100-miler, shuttling runners back and forth all day and night between RunnersWorld Tulsa and the QuickTrip loop halfway point then back again. He even fixed a flat tire, such a great guy and friend. April Shroff was also busy helping much of the day and night during the RunnersWorld Tulsa Urban Adventure 100, 75, 50 or 26.2 mile race. So many people to thank and talk about that contributed to making memories on such a great day. Many who weren't even teamed with Sean but showed up to help but I'm going to let Sean tell about that."
The RunnersWorld Tulsa Urban Adventure Race promises to be an unforgettable running experience as runners tour through a vast amount of Tulsa's iconic sights to complete their goal of 26.2 miles, 50 miles, 75 miles or 100 miles like Sean and his friends accomplished.
"One thing I will say because it bears repeating… you will not find a more supportive, encouraging and caring group of people than those I've met and made friends with in the running and biking community," Sean said.
After Sean showered, slept and ate he was ready to share his weekend's adventures with the world.
"Well we did it! We got that 100-miler done with a PR of 21:21:18. Something this big doesn't just happen by itself. It takes a lot of good people to do it and I had a village. I want to take the time to brag on them, the real super heroes of this story. This is the real story here. Something like this shows others what people can accomplish when they do it together.
"It's kind of a metaphor for life in a way. Life can feel for some like a 100-miler done over and over again but you never get to that finish line. You get that 100 done but there's another 100 to get through right behind it, but life wasn't made to do alone. God never created us with the intention of being alone. We can be there for each other to get us through the hard stuff – those parts of life that really challenge us. We all need those people. I pray that I've been able to be there for some of them too.
"We can also be there for each other for all the good stuff. Life's better together. I love celebrating all that good stuff with friends, cheering them on and recognizing all the stuff that makes them smile too. I've been blessed with incredible people in my life and great friendships in many areas of my life. When you're talking about good people though, you aren't going to find any better than this running community of friends. You just can't do it. We support each other, encourage each other and most of all, we love each other. It's like a family and they treat you like family. Each one of those is special for who they are and the relationships we've formed with each other. Hopefully this 100-miler we did can give some people hope. Hope in what we can do together, with each other and for each other. You can get through some really hard things, especially when we do it together.
"Man I'm proud of this Tulsa Urban buckle, but even prouder of my teams who helped me earn it. I'm so proud of everyone and thankful for each one who helped me finish this race. I even PR'd on this one with a finish time of 21:21:16. My previous Urban was faster than my very first one with a finish of 24:06. However, a goal was set for this one. We were trying for less than 24 hours and look at what we accomplished! Beasts! These races take a village and wow, look how everyone stepped in and stepped up to make this possible. This was my fourth 100-miler but none of them would have ever been possible without the incredible support I get. I will never forget that and I am always very thankful.
"I want to mention a few of my friends that are stepper uppers, before I even get to my awesome running friends. Kathy Bratton and Barbara Hamill Pinkerton invited me in to do this again this year…great friends here! Their friendship blesses me. There were some other friends who helped in the preparation. Bryan Drummond brought in my spares from my old blade and had some spokes repaired. We needed those ready just in case we needed them if we had a flat and in fact we did only three miles into the day. Johnny had even replaced the tire tube prior to the Urban. I'm going to look into investing into getting two solid rubber tires for my blade in the future. It'll be one headache we won't have to worry about then.
"I also want to thank my buddy Micah Bevins, who is a great friend as well. I've done many races with him prior to the Urban Adventure 100. We have done Tulsa Tough, as well as my very first 100-miler at Prairie Spirit. He brought a set of lights he'd bought and we'd used in the past on my chair. He put them on and then even gave them to me.
"April Shroff is another awesome friend that I am super close to. She helped in a lot of areas. She helped get some runners, helped organize and plan, helped push on this race and was there for the biggest part of it.
"Then there's my other good friend Johnny Williams. He was there before I got there checking my tires and stayed there the entire time. He wasn't able to run with me as we had originally hoped he could due to an injury but he was awesome helping with everything else. He found some friends that joined in for the100miler. He also provided a ride for all the runners to and from Runner's World to the halfway spot at QuikTrip. Teams would switch off either at Runner's World or QuickTrip depending on the half loop they were helping in. He'd then take the previous team back to Runner's World to get their cars. He did this throughout the whole day, night and overnight until we were done. When I had a flat on mile three, my team called him and he brought my spare, changed tires, sent us on our way and then fixed my flat afterwards so he could put that one back on later. There were others there helping too. At the end, just a few blocks away I asked him to run in with us. He was a huge part of today and he and his dog, Shadow, deserved to be there. I wanted them there. Good friend Johnny and I have done many races together and Shadow has been there with us for most of them.
"Finally let's talk about the awesome teams of friends who stepped up to help me this year. Many I was friends with already and had in fact done other races, 100-milers, triathlons and even biking events within the past. These friends were awesome to partner up with me again. These friends were April Shroff, Margaret Casey, Raymond Schafer and Mark Cole. There were others who wanted to be there but had prior commitments or injuries they were recovering from so we still had more slots to fill. These people, who I knew by name but just hadn't met in person or I had met before but had never ran with. They were Barbara Pinkerton, Lael Wever, Raj Patel, Joshua and Stacie Solis, MJ Hall, Jack Hatzenbuehler, Ryan and Rose Ashlea Mays and their son Ryan Patrick. This young man is a strong runner. Jack ran three separate 1/2 loops with me throughout the day. That's 38 miles this good friend did with me. He was determined that I get it done so he gave his legs to the cause repeatedly. This man is a beast. Another good friend Margaret ran two separate times with me -13 miles at first then 12 more. Steve Tipton came out to run a bit and also surprised me with the most awesome signs that he and his grandkids did for me. They were hung up at around 56th and S. Sheridan for all to see who came by. Super cool! Touched my mom and I. Tank Metcalf even stepped way up at the last minute to fill a spot running with my buddy RJ on the last loop. Originally, Ryan had volunteered to do this to help RJ out and fill a spot. He was already doing one with his wife and son earlier in the day. It was brutally hot and humid during the time of day he was with me. There were many runners out there during the Urban that day, many doing different distances, but were just unable to finish because the heat got to them. My buddy Tank, who I'd never had the opportunity to run with before stepped up, with little notice and helped us out.
"I got to see 100-miler legends Rene Villalobos and William Sprouse. Both live out of state and both eat 100's for breakfast. Both have finished just under 100 of them. I was also proud of my buddy Alan Roark, who helped with my very first Urban in 2019. He finished the 100-miler and won 1st place.
"So it's a wrap for this year! Tulsa Urban Adventurer 100-miler done! 100-milers are endurance events. They really test your stuff. What can you accomplish? How much can you suffer through? But I'm so grateful for the village I have and I know nothing is impossible with friends by my side. Don't let challenges define the life you live. Find another way and live life large."