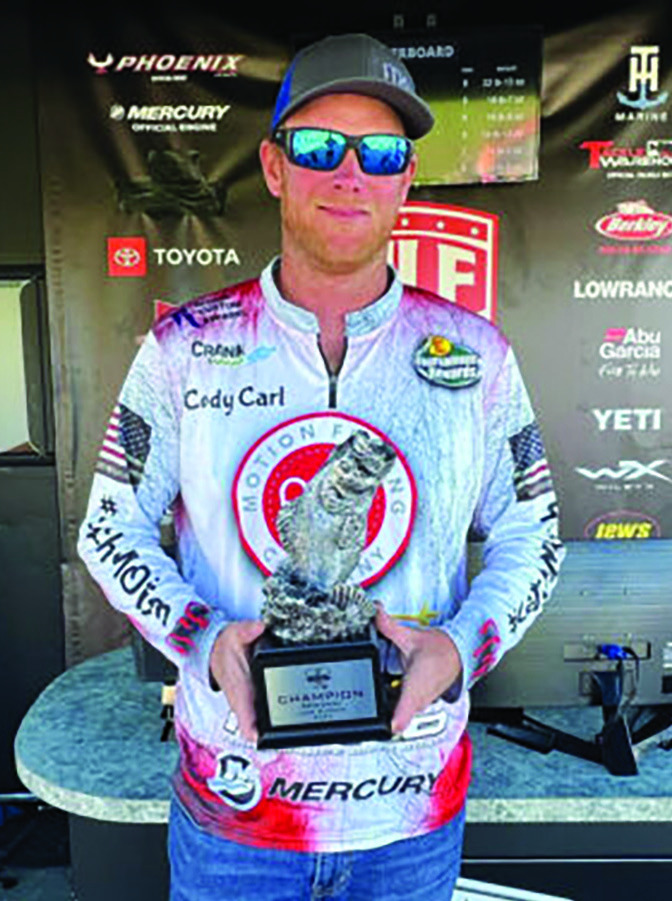 Big payday for fishing tournament winners
One winner from McAlester
Boater Cody Carl of Lotawana, Missouri, brought a three-day total of 14 bass to the scale weighing 41 pounds even to win the Phoenix Bass Fishing League Presented by T-H Marine Regional Event on Lake Eufaula in Eufaula.
Ian Leybas, of McAlester, placed second with 13 bass weighing a total of 32 pounds, 13 ounces. He won $11,450 For his victory, Carl earned $60,000, including a new Phoenix 819 Pro bass boat with a 200-horsepower Mercury outboard and $10,000. Carl also received automatic entry into the 2024 Phoenix Bass Fishing League All-American Championship, May 29-31, at Cherokee Lake in Jefferson County, Tennessee.
"This was a whirlwind," Carl said. "I didn't get a keeper bite in four days of practice. The first day of the tournament I started out running points where I thought maybe I could get a keeper bite. That didn't happen for me, so, I just started fishing my strength – flipping docks."
Carl said he had never fished Lake Eufaula, and decided his best approach would be to fish how he would on his home water of Lake of the Ozarks and see what happened.
"Before the first day of the tournament I wanted to pack it up and go home," Carl said. "I knew I just had to put my head down and grind. So, I just started fishing like I knew how, and I stumbled across this 'magic' dock that produced all my fish for three days."
Later in the afternoon on the tournament's opening day, Carl said he came across a dock that had set up just right for bass at this time of year. There was a cold front moving in, water temperatures were dropping, the dock sat in 8 feet of water on one side and 17 on the other, and shad were funneling into the dock, providing a perfect ambush spot for bass.
"I didn't have anything else," Carl said. "I left it Thursday just hoping the fish would be there again on Friday.
"On Day 2 I tried to run some other things early in the morning, but it didn't pan out, so I returned to the dock about 10:30," Carl said. "Within an hour and a half, I had my limit. Saturday, I did the same thing and had a limit of fish by 9:30."
All told, Carl said he caught 40 keepers off the dock throughout the tournament. In addition to fishing just one dock, Carl said he used just one bait during the tournament to catch his bass – a Zoom Brush Hog with a 3/8-ounce weight.
Carl said when he had landed around 13 pounds by 1:30 p.m. on the second day of competition, he left the fish biting to save them for the final day.
"It occurred to me I really had something going on and that I could win it if the fish stayed," Carl said. "The cold front that moved in late Friday night scared me a little bit, but I rolled in there and caught a 5-pounder on my third cast. I just kept grinding it out for almost 18 pounds Saturday.
"This feels great," Carl said. "This is my first year as a boater. It's emotional for me because you want to prove what you can do out here and when it's your time, it's your time."
The top six boaters that qualified for the 2024 Phoenix Bass Fishing League All-American were: 1st: Cody Carl, Lotawana, Mo., 14 bass, 41-0, $60,000 2nd: Ian Leybas, McAlester, Okla., 13 bass, 32-13, $11,450 3rd: Austin Lawson, Charleston, Ark., 15 bass, 31-13, $6,000 4th: Phil Smith, Orange, Texas, 12 bass, 31-12, $3,000 5th: Jeff Clark, Van Buren, Ark., 15 bass, 28-14, $2,300 6th: Thomas Rallo, Eldon, Mo., 12 bass, 28-14, $2,800 Rounding out the Top 10 boaters were: 7th: Lance Williams, Billings, Mo., 13 bass, 28-5, $1,600 8th: Alton Wilhoit, Noble, Okla., 12 bass, 28-0, $1,400 9th: Trevor Bartlett, Grain Valley, Mo., 14 bass, 26-6, $1,200 10th: Christopher Smith, North Branch, Minn., 11 bass, 25-1, $1,600 (includes $500 Phoenix MLF Contingency Bonus) Complete results can be found at Major-LeagueFishing.com.