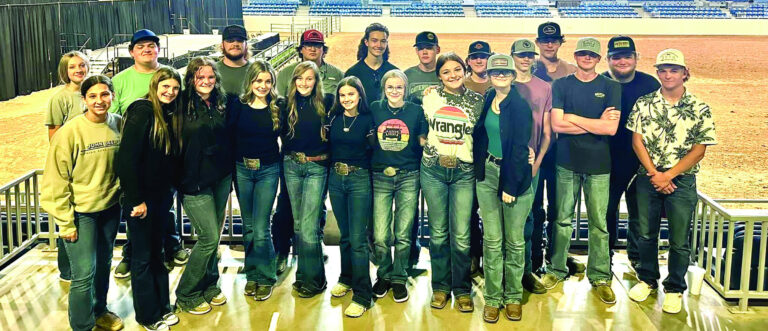 Checotah FFA competes well at Tulsa State Fair
After 11 days at the Tulsa State Fair Checotah FFA doesn't disappoint.
The results of all those days of competition were as follows: – Six teams competed at the state cattle grading contest – Sophie McGuire showed her Braunvieh heifers and placed 2nd in class 8. She was also class 7 winner and division 2 champion.
– Paisley Oxtoby also showed a Braunvieh heifer and won her class and was reserve champion division 4 winner.
– Kutter Ward was reserve breed champion Chester barrow and class winner.
– Chayda James-Carpenter showed her market lambs and was reserve champion senior showman Simmental, and class winner. Chayda also had the reserve champion hay exhibit.
– Jade McPeak showed her market goats and her market steer. She was champion intermediate showman with her steer and reserve overall champion for steer showmanship.
– Checotah's livestock judging teams were 1st and 18th out of 91 teams. Chayda was the 8th high individual junior FFA.
– Shayla Dismukes had two division champions with her percent Charolais heifers, and was bronze percent Charolais, and champion and reserve champion bred and owned Charolais heifers.
– Carly Dismukes was class winner and 2nd in class with her Charolais heifers and was bronze champion bred and owned.
– Katie Dismukes was class winner and 3rd in her division.
– Klaer Foreman showed a Hereford and Chianina heifers and was class winners, reserve champion in her division and bronze bred and owned Chianina.
– Julie Emerson was class winner, and reserve division champion and then reserve overall bred and owned percent simmental heifer.
– Avery Williams showed her breeding doe goats and placed 12th.
Overall these FFA youth and ag teachers who have been working hard, proved it in the arena.