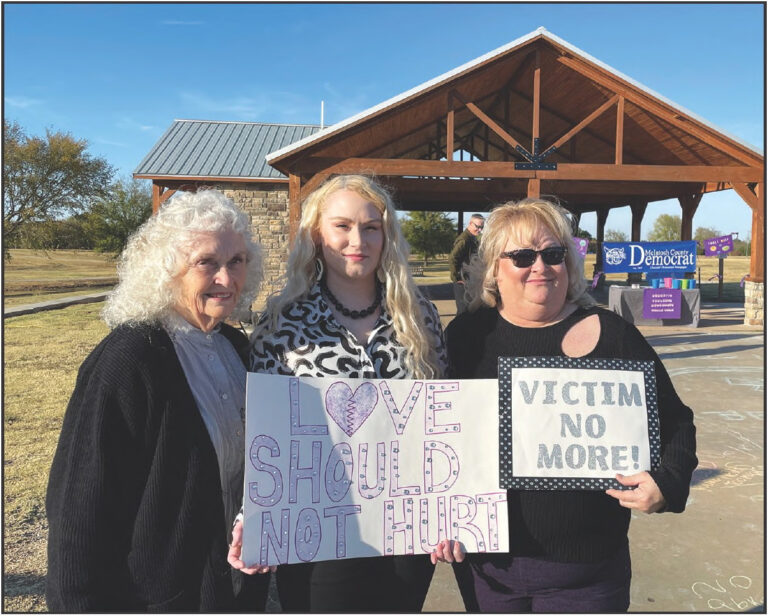 Time to talk it up at Chalk Walk
Giving domestic violence victims a voice
October is Domestic Violence Awareness month and the McIntosh County Democrat, along with Women In Safe Homes and OKAware with Checotah Schools, wants to bring awareness to the community with their annual Chalk Walk. The Domestic Violence Awareness Walk will be Monday, October 16 from 4 p.m. – 6 p.m. at the Checotah Sports Complex.
The entire community is invited to come out and chalk up the walking trail with encouraging words and pictures for local survivors of domestic abuse in the county.
Domestic Violence is a subject heavy on our hearts as it has affected our local newspaper family and other families in our community.
Several locals have told how their dreams turned into nightmares due to domestic abuse Felicia's story
Felicia stated how she had always dreamed of going to Paris as a little girl and wanted to travel and see the world. So, when she met a man that promised her the world she was thrilled.
"We dated while we were in college and both of us knew we wanted master's degrees so we could pursue our dreams and travel the world.
"We married in 2015, at the beautiful, historic Coleman Theatre in Miami, OK and then we honeymooned in Paris and India. I got to see the Eiffel Tower and the Taj Mahal in person. It was a dream come true until we came home and everything started changing. He starting to act indifferent and we started arguing about everything. It seemed nothing I did or said was right and I began to feel like I was walking on eggshells trying to keep the peace.
"We had moved to a more secluded area and he insisted that we added security. At first, I had believed it was for my safety. Later I realized it was his way to know my whereabouts.
Drugs came into the picture and the fights escalated to the point I thought I was living with Jekyll and Hyde. I felt powerless, broken, alone, and trapped due to financial dependency.
The worst part was that he seemed to be able to fool almost everyone around us into thinking he was the good guy while he whittled away at my self-worth on a daily basis.
Finally it all came to a head a few days before Thanksgiving. We had been fighting and almost had head-on collision but instead we rolled our truck several times and injured me badly, but when the police arrived he lied and told them I was driving so he wouldn't be drug tested.
"That's when my family had enough and moved me out. But like a lot of domestic cases I went back to him and we moved to another home in Muskogee. This is probably one of the darkest moments in my life as everything spiraled out of control very quickly this time. Again, my mom came in to try and save me and even moved me to another state to get away from him, but he stalked us everywhere we went. Finally, we were able to get local law enforcement from another state to hear our side of the story and they started patrolling our home nightly.
"Eventually, I ended up back at my home in Muskogee to get my belongings and had to call local authorities after another altercation, but they chose his side. This one was the last straw for my parents who then began to take matters into their own hands.
"Finally, my estranged husband was picked up on other charges and we were able to make my escape away from him over that weekend. We were shocked to find the shrine he had made out of our wedding decor and honeymoon pictures. It was terribly disturbing, and I honestly believe if I hadn't gotten out, I wouldn't be here today. My family was shocked to find all the cameras he had hidden throughout our home from bedroom to inside the fireplace to the detached garage outback. He even had them up in the trees outside.
"Now I'm just trying to work past the PTSD and the panic attacks I still have from time to time. I don't think I will ever trust anyone again and unfortunately that has cost me greatly. But I do hope by telling my story, someone else finds the strength to get out of their abusive relationship before it's too late."
Deborah's story
"I also know what it's like to survive domestic violence because I suffered major abuse from my boyfriend back in 2017. He worked in the oilfield and would be gone two weeks then back two weeks. I knew he was a little controlling because he always wanted me to send pictures to prove where I was all day. Then he started asking who I had been seeing.
"The nightmare happened one night when we had been at the bar with some friends and he had too much to drink. I knew I was in trouble when we pulled out of the parking lot and he told me he was going to go find his sister who had been missing for months. Then he said he was going to bury me next to her. I tried to unbuckle my seatbelt to jump out of his truck but he spun my arm around and punched it above the elbow breaking my humerus bone.
"He then drove me out to a remote area and kept beating me. He grabbed my hair and started beating my head against the window. Then he tried to strangle me. My nose was bleeding badly and I started flinging blood everywhere in the vehicle and I told him the police would find him even if he killed me. So he took me home and shoved me out.
"My daughter drove me to a friend's house who was a nurse and she called an ambulance. I spent three days in two hospitals and now have 13 screws and a plate holding my arm together, but I still consider myself one of the lucky ones.
"He would go on to turn himself in and would get aggravated assault and battery charges but only served five years' probation.
"Crazy as it sounds, I went back to him because his boys reached out to me and said that they needed me. But when I got there, he had another girl with him, and I reacted. This time he choked me and broke my phone so I couldn't call for help. I went straight to the police to file a report, yet somehow my report got lost. I couldn't even speak for two days because he had bruised my larynx.
"Ironically, the DA ended up filing assault charges on me instead. I didn't feel like fighting the system anymore, so I plead guilty and did a three-month probation in February 2019. I had some law enforcement on my side but because the DA was mad at me for going back to the situation he wanted to 'teach me a lesson.'
"I find it so amazing that people seem to always think the victim needs to learn the lesson, not the perpetrator. I believe it's time to give victims back their voice. It's our system that is silencing them, not just their perpetrators.
"I'm with a great guy now, but I still feel the need to be the voice of experience for everyone else going through this type of abuse. You can get out and you can have a better life. We are the proof."