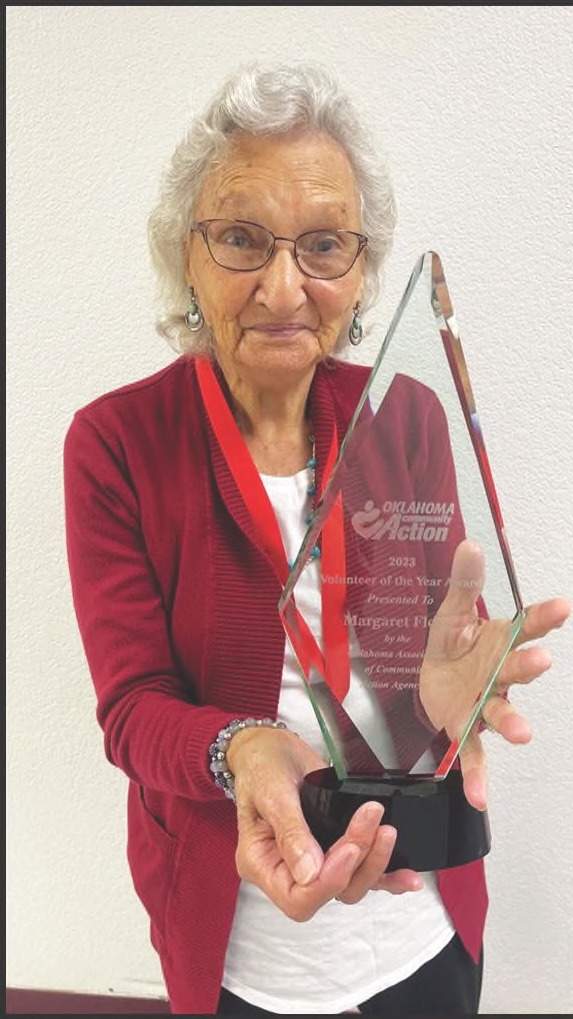 96-year-old 'Granny' Floyd honored for her volunteerism
Being a volunteer grandparent, mentoring school-age children, has kept 96-year-old Margaret Floyd young.
After volunteering with the KI BOIS Foster Grandparent Program for the past 33 years, she shows no signs of slowing down.
The mother of former Muscogee Nation Chief James Floyd keeps volunteering and keeps collecting awards for her unselfish work.
Most recently the Eufaula resident was named 2023 Volunteer of the Year by the Program.
The annual award recognizes an outstanding volunteer who makes an impact on the community by the number of hours they volunteer. Margaret has volunteered more than 40,000 hours.
The KI BOIS Community Action Foundation selected her for the "Granny of the Year Award" in 2013, and in 2014 she received the Oklahoma Department of Human Services Volunteer and Community Partner Award.
In 2019 she was named a Living Legend by the Muscogee Nation for teaching hundreds of children and improving the quality of life for hundreds of Muscogee citizens and their communities.
She said her volunteer career began in 1990 after an administrator at Stidham School, who went to her church, kept asking her to be a "granny."
He asked her enough times that she finally decided to give it a go – and once she did, she never looked back.
She first volunteered at schools in Stidham and Hanna and eventually became a mentor in the Eufaula schools.
"Granny" Margaret, as she has been fondly called, was presented her most recent award on Sept. 22 at the annual fall conference of the Oklahoma Association of Community Action Agencies in Oklahoma City.
She was nominated by Shaunda Noah, KI BOIS Foster Grandparent Program Director.
Her nomination reads: "Margaret has volunteered with the KI BOIS Foster Grandparent Program for 33 years. She has served Stidham Schools, Hanna Schools and most recently Eufaula Elementary.
"She volunteers six hours per day and has served over 40,000 hours over the course of her volunteer service and has assisted hundreds of children with reading and literacy.
"Margaret has been very instrumental with every school district she has worked with and been a cultural icon within the Creek Nation. She has traveled across the country in representation of the Creek Nation and a representative of the Foster Grandparent Program.
"McIntosh County is ranked seventh in persons in poverty, according to index mundi. This index is used by the US Census Bureau to calculate poverty data. As a volunteer within this county, Margaret has volunteered in school districts and worked with children who live in these poverty conditions and she has helped them overcome obstacles at home to be good students in the classroom.
"The purpose of a Foster Grandparent is to provide one-on-one tutoring and mentoring to children who have special or exceptional needs. Most volunteers do so much more than that, and Margaret is no exception. She provides a warm, safe place for children who have very difficult home lives and allows them to be able to focus in school and be successful in their studies. Without this caring environment many children would fall through the cracks and fail.
"It would be nearly impossible to fully transcribe the impact Margaret has had over the course of her 33 years of service. If one were to travel anywhere in McIntosh County most people know Margaret Floyd, either by her service in school, her service within the Creek Nation or her involvement with her church.
"The people who know her love and respect her for her wisdom, kindness and her giving spirit.
"It is a well-known fact that the Foster Grandparent Program provides a positive impact on the children, schools and communities in which they are a part. Margaret Floyd exemplifies the strength, grace and wisdom that being a Foster Grandparent encompasses.
"In her 96 years of life on this earth, no one person has given more to service than Margaret Floyd."