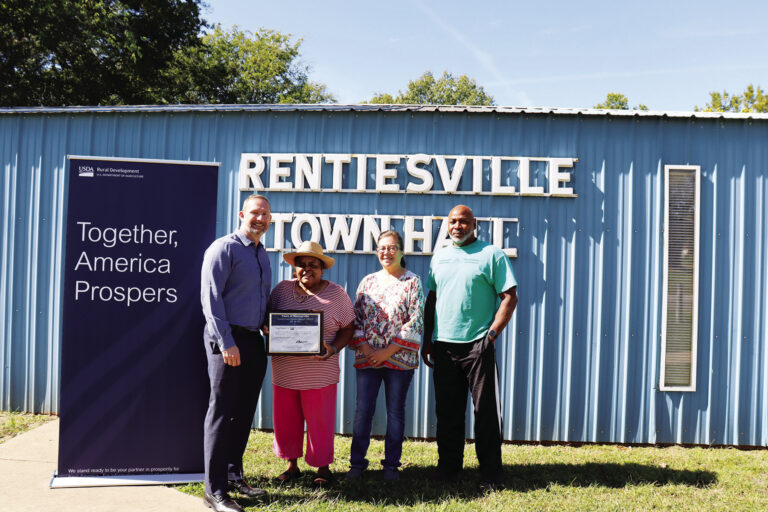 Oklahoma RD announces investment in two Historic All-Black Towns, Clearview and Rentiesville
The U.S. Department of Agriculture (USDA) Rural Development Oklahoma State Director Kenneth Corn announced last week that USDA will invest $118,200 in Clearview and $50,000 in Rentiesville to support infrastructure needs and community support structures. These investments are a part of USDA Rural Development's commitment to deliver equity and change in historically underserved and vulnerable communities. Both Clearview and Rentiesville represent two of the remaining thirteen historic all-black towns in Oklahoma.
Funding assistance comes from the USDA Rural Development Community Facilities Grant and Loan program, which provides affordable funding to develop essential community facilities in rural areas. Rural areas including cities, villages, townships and towns, including federally recognized tribal lands with no more than 20,000 residents according to the latest U.S. Census Data, are eligible for this program.
This project in Clearview and Rentiesville will support:
• $100,000 street and bridge infrastructure improvements in Clearview
• $18,200 installation of a new HVAC unit for the Clearview Community Center
• $50,000 street infrastructure improvements in Rentiesville
"The Biden-Harris Administration has made advancing equity a priority for rural America because the President understands that when everyone is able to participate in the American dream then everyone prospers. When segments of our community are left behind it only makes our nation more vulnerable," Corn said. "These investments; however, only represent a start to bringing equity back to our historic Oklahoman all-black towns, as I am committed to follow our President's lead and continue to hear from our underrepresented communities in the Sooner State on what their needs are and how Rural Development can deliver on the President's promise to fill in those gaps."
Funds can be used to purchase, construct, and / or improve essential community facilities, purchase equipment and pay related project expenses. Examples of essential community facilities include:
• Health care facilities such as hospitals, medical clinics, dental clinics, nursing homes or assisted living facilities
• Public facilities such as town halls, courthouses, airport hangars or street improvements
• Community support services such as child care centers, community centers, fairgrounds or transitional housing
• Public safety services such as fire departments, police stations, prisons, police vehicles, fire trucks, public works vehicles or equipment
• Educational services such as museums, libraries or private schools
• Utility services such as telemedicine or distance learning equipment
• Local food systems such as community gardens, food pantries, community kitchens, food banks, food hubs or greenhouses
"Secretary Vilsack and Deputy Secretary Torres Small know that USDA can be a part of this solution, because of their potential high impact for underserved farmers and ranchers, families and children, and rural communities," Corn said. "The promise I have made personally to the Secretary and Deputy Secretary is that the Oklahoma Rural Development team remains steadfast in our commitment to advance eq-uity in every facet of our mission and eliminate the barriers to accessing USDA programs."
The mayor of Rentiesville, Mildred Burkhalter, stated that she was more than pleased to have received this grant for $50,000 plus the REAP grant through EODD for $90,000 to improve street in Rentiesville. "We have not done anything to our streets in a while so this will be good for our town," Burkhalter said. "We first applied for a REAP grant through EODD and received it. Then we applied for this grant through USDA and received it. These grants will help us out tremendously with our streets improvement. We have two or three streets, including the one on the east side of the Blues Club and Hall of Fame that we will be applying asphalt overlay. We are more than grateful for these grants and the improvement they will bring to our town of Rentiesville."
For more information on how to apply call 580-889-2554 ext. 116.
USDA touches the lives of all Americans each day in so many positive ways. Under the leadership of the Biden-Harris Administration, USDA is transforming America's food system with a greater focus on more resilient local and regional food production, fairer markets for all producers, ensuring access to safe, healthy and nutritious food in all communities, building new markets and streams of income for farmers and producers using climate-smart food and forestry practices, making historic investments in infrastructure and clean energy capabilities in rural America, and committing to equity across the Department by removing systemic barriers and building a workforce more representative of America. To learn more, visit https:// www.rd.usda.gov/ok.