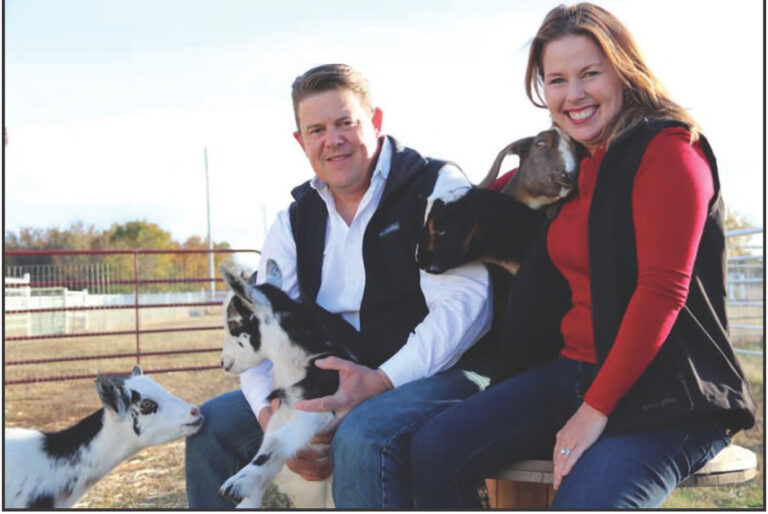 Local ranch grateful to give back
One local ranch is blessed and grateful to be able to give back to Checotah and surrounding communities not just around Thanksgiving but during the production seasons.
Dakota Star Ranch is a working ranch utilizing agritourism with an engaging livestock sanctuary and a nutritional produce operation used to educate and empower others through unique events and experiences. Some of these experiences are special workshops, dinner under the stars and much more, like seasonal produce that is locally sold and even given to local charities to fight food insecurities.
"We were excited with our vegetables we produced this first year," co-owner Shannon Seaborn-Dobbs said. Over 42 pounds of veggies went to the Methodist Mission here in Checotah and 557 pounds went to the Eastern Oklahoma Food Bank (EOFB). Our goal is to triple all of that next year!
"Something that really impacted Brian and I when we first started getting involved with the EOFB was how many families with two incomes still use the food bank quite often just to put food on their table. It's not just for people with no income at all."
Statistics show that 1 in 6 Oklahomans and 1 in 10 seniors suffer from food insecurity every day. Though hunger can affect people from all walks of life, 33% of Oklahomans live in a low-income, low-access community, meaning they lack adequate access to nutritious food.
"Statistics like these have weighed heavy on us ever since we started this ranch a few years ago, but it's when we get to give back through these amazing programs that we feel the most grateful. That's what reminds us that there are programs for families like the @okfoodbank who literally serves thousands of food hubs across our region, and we are so honored to be part of their team of producers.
"Who knew we could crank out 32 pounds of lettuce in a repurposed water trough and our pumpkin crop this year was also full of surprises! There was so much flavor and beauty in our pumpkin patch. We couldn't hardly wait to taste the pumpkin deliciousness that was created for our Dinner Under the Stars with Belt40 Cocktail Lounge & Kitchen. We were so excited to bring a night of 'farm to table' elegance with live music to our community. Chef Matt Gulley's decadent menu featured a skillfully prepared choice of filet from another local family, Watson Farms, plus pumpkin ravioli, savory hors d'oeuvres and other sides, all crafted with produce straight from our garden.
Brian Dobbs, co-owner, minister and entrepreneur, knows that positive results are not by accident and the ranch is a 24-7 investment into the land, the animals and the community in which one serves.
"We know that the vitamins, nutrients and minerals essential to good health are often packed inside good home-grown vegetables, Brian said. " These healthy soils, plants and animals all work together. It all started in the Garden – our relationship with God, ourselves, others, plants and animals.
"This is what motivated us to start this ranch in the first place and grow fresh produce to be served at our table and to share with others. This goes way beyond just sharing a good meal with friends and family. That's why we are so passionate about what we do and how we serve. The power of a meal, education and the fellowship are how lives and communities are transformed. Giving back, sowing a seed and telling someone you care about them goes a long way. We are so thankful to be 'blessed in the city and blessed in the field' which is how we are able to give back. We are grateful to do our small part to transform lives and transform our communities."
To learn more about Dakota Star Ranch go to info@DakotaStarRanch. org.